Description
The only bathroom organizer you need!
Organize your bathroom vanity in style with design and efficiency in mind. Say goodbye to clutter around your countertop. This product will transform your bathroom to a sleek and modern look. Whether you are single or have a family, never lose your toothbrush and toothpaste again while having extra space for storing daily essentials.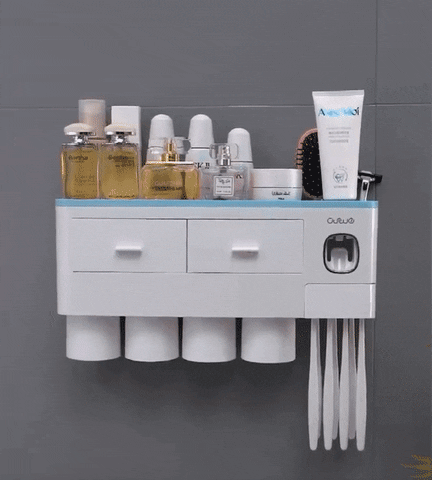 Features & Benefits
Automatic Toothpaste Dispenser – never waste toothpaste again, with every extrusion being same amount this toothpaste dispenser dispenses the perfect amount every time.
Toothbrush Holder – store your electric or regular toothbrushes. Simply lift a protective dust cover and hygienically store away up to 7 toothbrushes making it perfect for large families with kids.
Multi-Use Storage – comes with two storage compartments to keep your daily hygienic or cosmetic products neatly stored away. Perfect for be storing makeup brushes, cosmetics, razors, cotton balls, cotton swabs, and more.
Shelf-top Storage – has a large shelf that allows for storage of daily grooming essentials and with the anti-skid design, your belongings are secure in one place. Great way to declutter your bathroom and keep it neatly organized.
Mouthwash Cups – the inverted cups are reinforced with a magnetic feature that secures the cups to the holder. It allows the cups to quickly drain off water, preventing bacterial reproduction and keeping the cups dry, clean and hygienic.
Easy Installation – comes with strong adhesive that can withstand up to 7 kgs of weight.